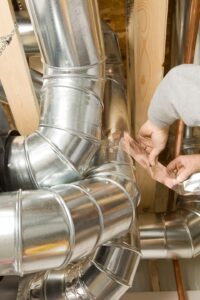 Air ducts are an interesting component of your home. They might have been constructed at the same time you got your first central air conditioning system installed, or perhaps they were set up with you purchased a furnace. Either way, forced-air heating and cooling systems (that don't rely on air handlers) must use air ducts in order to bring comfortable air to the rooms of a house.
Things can get funky with old homes especially, since most older homes used boilers and other methods for staying warm that didn't rely on air ducts or air in general. This means that actually getting the air ducts installed in a home can be complicated, expensive, and a nightmare when they need to be replaced.
Let's take the anxiety out of the equation today. We'll talk about when you might need to call for our help with your AC duct replacement in Palm Bay, FL, and why this can be stressful to evaluate on your own.