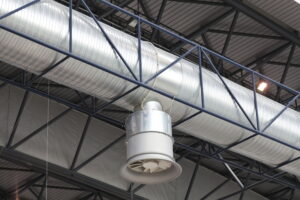 Commercial HVAC isn't as well known as it should be. Sure, business owners are kind of forced into buying commercial HVAC services because no customer or tenant wants to enter a building without any air conditioning in the summer or heating in the winter. However, it doesn't have to be as boring a subject.
Take for instance our commercial HVAC maintenance program. It might seem like a boring thing to anyone new to the commercial HVAC field, but it's absolutely not. Maintenance can give business owners access to yearly check-ups, early warnings toward expensive repairs, and discounts on certain costs.
Take a look below at some of the commercial HVAC services we offer that are better than most business or building owners expect. We promise that these services won't bore you!
Three Useful Services
When we say that these services are "essential," what we're really trying to say is that they're useful for you and your company. Commercial HVAC doesn't just have to be about calling a technician to fix your industrial air conditioner once every few years. You can receive continual, ongoing savings through some of our services, as well as feel better about not being surprised by upcoming repairs.
Maintenance
We mentioned maintenance briefly at the beginning of this blog post, but we can't emphasize how important this kind of service is. Maintenance allows you to sign up for our subscription service, where you get access to one of our technicians annually to check on your HVAC systems. They'll make minor adjustments and fixes to ensure everything works smoothly and efficiently, as well as warn you regarding any big repairs that might be approaching.
Our maintenance program is unique and provides a whole slew of discounts, priorities, and benefits that make it worth every penny. The longer you're subscribed to this service, the most mileage you get from it—so sign up early today!
Indoor Air Quality Assessment
Indoor air quality in a commercial establishment isn't just about finding a comfortable balance. It can also be a legal issue. If your building isn't up to code and all of your tenants or employees are constantly coughing, sneezing, or feeling ill, then you might have a legal battle in your future. Your building's inhabitants deserve to feel good when they're in your establishment, so commercial indoor air quality services can help you achieve that goal.
Regardless of what kind of indoor air quality care you need, our assessment can help you locate the right balance. We'll tell you exactly what systems you'll need and how they'll change the composition of your indoor air.
Comprehensive AC Care
Don't just call one of our technicians every time your air conditioner breaks down. Commercial AC units are immensely powerful systems and require constant care to act appropriately. Our team provides comprehensive AC care, from installation, to replacement, repairs, and maintenance. You can even ask us to see what specific help your AC needs. Don't skimp on a service like this when it's probably the most valuable service in our Florida climate.
Call Complete Air & Heat, Inc. for comprehensive commercial services. Making families happy on the Space Coast since 1975.