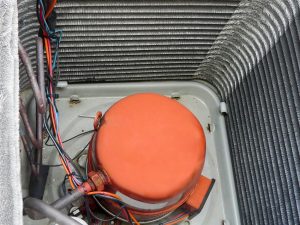 Let's face it: in the hot summer months, as long as your air conditioner is working properly, you're probably not paying much attention to it. So, it's no surprise that you might not know how your AC works (no worries, that's what we're here for).
One of the most important parts of your home's heating and cooling systems is the refrigerant, a compound that acts as a heat exchanger in both air conditioning units and heat pumps to cool and warm up your home.
While refrigerant is a critical part of your air conditioner, it's also pretty bad for the environment, which is why some of the standard refrigerants are being phased out. Here are the different refrigerants that your air conditioner or heat pump may be using and what you need to do to prepare for the transition.
R-22 (Freon)
R-22, also known as Freon, was at one point the most common refrigerant in home AC units and heat pumps. Under the Clean Air Act, the US stopped producing and importing this type of refrigerant in January 2020. Air conditioners that were produced after 2010 don't use it, but older models still can.
What does this mean for you? While your air conditioner might still use R-22, only what's been stockpiled is available. This means that R-22 could get a lot more expensive as supplies become depleted, eventually driving up your AC maintenance costs.
R-410A
When the Freon phaseout was announced in 2010, a more environmentally friendly refrigerant known as R-410A became the standard alternative. If you have a newer AC unit or heat pump, chances are it uses R-410A. But this refrigerant will likely be phased out at some point as well. Just like Freon, R-410A prices will likely rise as the existing supply dwindles.
While this legislation isn't set in stone, it's a good idea to remember that no single refrigerant is the best, and that advancements are always being made to the technology and products we use.
Next Generation
There are other refrigerant options out there, with new possible alternatives constantly being developed. Refrigerants known as R-32 and R-454B are likely replacements. In 2021, the technology innovation company Honeywell announced that it is testing R-466A, another promising alternative that's far better for the environment than Freon and R-410A.
As refrigerant technology becomes more advanced and we discover more environmentally friendly ways of cooling our homes, the way air conditioning units work and the refrigerants that they use will continue to change.
What Should You Do?
While you don't need to panic, you should consider the rising costs of phased-out refrigerants and how they could impact you. If you have an older AC unit or heat pump that uses R-22, you might want to consider upgrading it.
Not sure what type of refrigerant your AC or heat pump uses or want more information on how to prepare for this transition? Our team of professionals would be happy to help you consider your options.
If you suspect that something may be wrong with your AC unit or you need air conditioning repair in Rockledge, FL, give us a call! Making families happy on the Space Coast since 1975.