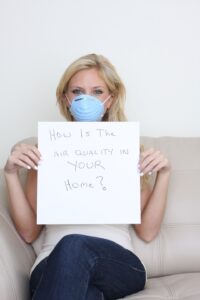 When homeowners call us for help, they're expecting the complete package. They want high-tech solutions for their problems, and that includes an air purification system. While you might be able to find an article that only talks about certain models, you're not necessarily getting the industry inside scoop unless you read your info from our blog!
The truth is that air purifiers, especially UV air purifiers in Cocoa Beach, FL, are incredible home improvements for a variety of reasons. Especially in our area where homes are being built with tight seals to keep air conditioning inside, we're also starting to see an influx of germs that can cause damage to our bodies and to the quality of our lives.
So, let's cover everything in this complete guide. We'll talk about how air purifiers work, what they do to the contaminants in the air, and why you should probably have one in your home.
How Does an Air Purifier Work?
Ultraviolet light air purifiers work in a specific way. At first glance, they're just light bulbs—UV light bulbs to be more specific. But they're mounted in your air ducts where all of the air from your home gets cycled through. This means that most of the viruses, bacteria, and mold spores will pass right over this light and in close contact with it.
You might think having a bright UV light shining in your home would be a disturbance or dangerous, but it's quite the opposite. It sits in your air ducts so half of the time you'll forget it's even there. And, it doesn't shine anywhere near you, making sure that you're never in contact with those harsh rays.
How an Air Purifier Eliminates Germs
If you can remember from your high school biology class, UV light is very harmful to single-cell organisms. While UV light doesn't affect humans, it causes a disturbance to the DNA of a microorganism. It destroys the bonds that hold the DNA together, rupturing the cell's internal components and inhibiting its ability to reproduce.
Reproduction is essential for single-celled organisms like viruses and bacteria. It's how we get infected, and how a virus takes over a host. If the cell is unable to reproduce, then it's essentially rendered harmless and you're basically immune from it causing you to be sick.
All of this is done quickly, simply, and without harming human tissue.
How to Tell Whether or Not Your Home Needs an Air Purifier
Here are a few reasons why you might need an air purifier in your home:
You're constantly sneezing, coughing, or reacting to things in your air that make you feel uncomfortable.
You're getting sicker every year, no matter what lifestyle changes you make.
Your air feels stuffy.
You have foul odors permeating throughout your home.
Call Us!
Our team provides fast and thorough air purifier installations for homes in the Cocoa Beach area, so you don't have to look anywhere else. Plus, while you're at it, why not get your air conditioner maintained or repaired by the best team in the business?
Call Complete Air & Heat, Inc. "Making families happy on the Space Coast since 1975."