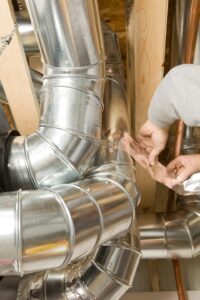 Ducts are absolutely vital to your home comfort and efficiency. Unless you invest in a more expensive ductless mini split system that doesn't rely on air ducts, you're going to want to make sure your air ducts are tightly sealed and in good shape for the foreseeable future.
This can be hard for a lot of people since ductwork isn't the most glamorous part of HVAC. In fact, we get way fewer calls about duct work in Palm Bay, FL than we do about heating and air conditioning systems when they work together closely. This is why we'd like to take this blog post as sort of a PSA to teach some of our customers about the problems that come with old or outdated ductwork.
If you're noticing your ductwork having rips, tears, gaps, and even critters inside of it, then you're in the perfect position to sign up for professional duct services.
1. Impeding Efficiency
The first and most explicit way that ductwork in disrepair can mess with your home is through inefficiency. Even if your air ducts are pretty good everywhere except for one problematic spot, it will still have an impact on your efficiency, albeit small.
The problem with efficiency is that any little problem can quickly turn into a big one if you're using your air conditioner more frequently throughout the year. That small gap might only leak a bit of air conditioning into your crawlspace, but over time, that "little bit" turns into a lot of wasted energy and cash directly taken from your pocket.
When air ducts are sealed up and fixed properly by professionals, they're less likely to be a drain on your home efficiency, finances, and even your home comfort.
2. Poor Comfort
Yes, comfort can suffer from air ducts in rough shape. This might sound like a convenient reason for us to tell you to invest in duct repairs since comfort is subjective. But it doesn't quite feel subjective when your home is a whopping 90 degrees on the hottest day of the year, even with the AC blasting.
Yes, you might think your home is comfortable now, but during a heatwave, your mind could change very quickly. And since your air ducts are the culprit and not your air conditioner, the fix to this problem could be relatively cheap compared to an AC repair.
This is ultimately good news, and it's one of the most important reasons to get your air ducts fixed by a team of professionals.
3. A Stressed Out System
If your air conditioner is working too hard to compensate for bad ducts, then you're going to be in a tricky spot. AC systems are designed to work in nominal cycles that make your home feel cool and comfortable. The moment they start working overtime, their days are numbered, as components start to get worn down and broken.
You'll see more AC repairs as a result of bad ducts in just a few years' time. This can be a serious drain on your finances, and it's more financially worth it to invest in your air ducts now.
Schedule duct repairs with Complete Air & Heat, Inc. Making families happy on the Space Coast since 1975.