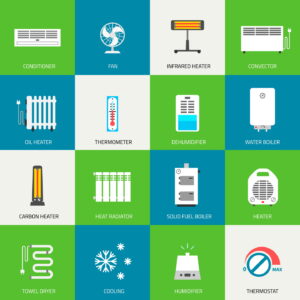 Whether you're an aficionado of the Complete Air & Heat blog, or you're just here for the first time, we want to extend our thanks. This is the time for giving thanks, and without the people who read this blog, there would really be no point in writing it! It makes us feel all warm and fuzzy to know you're out there depending on our advice.
Our advice on this blog is and always will be free. Though, for the homeowners out there who take our advice but who call someone else, what happens when you need specialized service? There are a lot of HVAC contractors in our area, but we're some of the only ones who offer special services when it comes to electrical work or air purifiers in Melbourne, FL.
So, today we'd like to highlight some of the more unique services we offer in case you're looking for an excuse to finally switch contractors and call our team of professionals today!
We've Got Something for Everyone
Most of our customers call us for air conditioning work. We're not going to lie to you: being in Melbourne, FL means we're inundated with a lot of heat and humidity for most of the year. Air conditioners need to be in prime condition in order to save you money and keep things running smoothly. But what if you need some help with your indoor air quality, or grounding your home for lightning strikes? Well, then you're in luck!
REME-HALO Air Purifier and UV Lights
With the rise of a global pandemic, people are becoming more and more conscious about the health and safety of their indoor air. This is inevitably a good thing, because as air quality has gotten worse indoors, people haven't been as quick to notice it as they have been recently.
Our team provides the installation and service of REME-HALO and UV light air purifiers. Each one is designed to thoroughly clean the air of your home. The REME-HALO uses a magnetic field to draw in contaminants and remove them from your air, while a UV light purifier that's mounted in your ducts will eliminate the germs on the spot. You can see a reduction in odors, particles like dust and dirt, and the elimination of viruses and bacteria from your air.
Programmable Thermostats
You might know us as the air conditioning experts here in Melbourne, but we're more than just that. We provide systems like programmable thermostats that are designed to streamline the cooling and heating processes throughout the year. These types of thermostats can learn your comfort trends, understand when heating or cooling should be turned up or down throughout the day, and will ultimately save you money on every monthly bill by cutting costs where you barely even notice them!
Surge Protection
Yep, we know it's surprising. What other HVAC contractor in this area provides surge protection services? Well, we do. We know how frequent stormy weather can be here in Melbourne. Lightning strikes are common, power fluctuations can happen multiple times a year, and it's important to have a system in place to protect your electrical devices. Contact us for some serious surge protection services performed by professionals.
Call Complete Air & Heat, Inc. for unique services that other teams don't offer. Making families happy on the Space Coast since 1975.