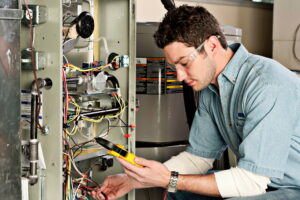 We're in the home stretch! The beautiful summer weather and fishing season are almost upon us and those months will be here in the blink of an eye. But if you've got furnace trouble, it'll probably feel like the longest month of your life. Furnaces are chugging away for the last few weeks of winter before we get the amazing sunshine that we love in the Sunshine State.
However, this is also a point in time when homeowners might decide to ignore their furnace repair because the season is almost over. The unit might be making a strange noise or it's running inefficiently. But just because it's nearing the end of the wintertime doesn't mean the issue should be ignored. For the reasons we're about to mention, it's worth investing in furnace repair in Palm Bay, FL even if the temperatures are starting to increase or if the heating season is likely to end in a few weeks.
Forgetfulness Leads to Anxiety
Our main job on this blog is to alleviate anxiety. Anxiety can make life worse and make us miserable, so how about we try to lessen anything that might be stressful and start helping you out?
Just like a large credit card bill or a loan, a furnace problem can be easy to forget about once you're not using it a lot. Our summers are long, hot, and humid and they last from early spring to the end of fall. So it's very easy to just forget about heating systems entirely while you focus on your air conditioner.
However, this is what is going to make your furnace an anxiety-inducing nightmare: when you restart it again on a chilly day next year and find out that it's been sitting for eight months without the repair it desperately needs. This is where things can get expensive and stressful.
You can alleviate this problem by just investing in repairs now so that it's ready and waiting for the next heating season.
Problems Can Get Worse
Over time, problems can exacerbate to the point where they become two problems or a more expensive one to fix. Here are a few reasons why problems with your furnace can get worse if you don't get them fixed now.
Dust
Dust can settle on your heating system to the point where it can really get in the way of things. If you don't fix a problem now, before you put your furnace in hibernation, dust can get in the cracks, create a thick layer on top of the components, and overall make things harder to address down the line.
Weather
If you've got a port exhaust hooked up to your gas furnace, then it's touching the outside envelope of your home. This means that any hurricanes or bad weather we get throughout the year might impact this component.
While the rest of your furnace might be contained safely within your home, the electrical system that it's connected to or the port exhaust and ductwork aren't. So, make sure that your system is looked at before the summer season to ensure that it's in good shape before anything else happens to it.
Do yourself a favor and get your furnace fixed today. Contact Complete Air & Heat, Inc. Making families happy on the Space Coast since 1975.