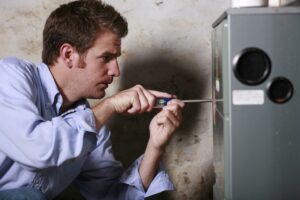 We know, we know, living in Florida isn't exactly a good reason to think about your heater. While our northern neighbors get pelted with snow week after week, we're sitting pretty on some mild temperatures at worst. That being said, every night the temperatures dip down, sometimes into the 40s, and it's up to your heating system to keep you comfortable.
How is your heater running? Is your furnace working smoothly without a hitch? Or is it pining for furnace repairs and you're just not in the right place in your budget or schedule to get them done? Regardless of your situation, there are things you can do to ensure your furnace is working properly. One of them is to go use a checklist and take note of the most important things that should be fixed.
Here's our tried and tested furnace repair checklist. Print this out or save it, so you can reference it when you're worried about whether or not your heater will make it through this season and the next.
1. Check the Temperature and Quality of the Air
Go ahead and look at what your thermostat is telling you. What is it saying the temperature is in your home? And more importantly, is what your thermostat telling you accurate?
It's a good idea to remember that your thermostat is a machine and won't always know what the entirety of your home feels like. It's supposed to guide your heater into turning on and off when it's supposed to, but you might notice a problem before it registers on your thermostat. If certain areas of your home aren't getting heated properly, or if the temperature listed on your thermostat is not the temperature you're feeling in your home, then furnace repairs are imminent.
2. Investigate Any Sounds or Smells
Your furnace shouldn't make any noises or smell like anything if it's operating as it should. Take a walk around your home and jot down if your nose detects any smells, like rotten eggs or smoke, and if your ears detect any obnoxious noises.
These are usually the most obvious signs that your heater needs to be repaired. If you're ever confused about what noises your heater should be making, or if the sound you're hearing really signifies a problem, then give us a call and we can help.
3. Compare Your Monthly Heating Bills
Month to month, your furnace should be able to efficiently heat your home. If it's not, you'll see this reflected in poor comfort levels and a higher cost on your bills. Compare your bills this year to the bills you paid last year. Are they considerably higher? How about compared to the year before that?
These are the questions you should be asking yourself if you want to know when something is wrong with your furnace. A poorly operating furnace will consume more gas and be more expensive to run.
4. Measure the Age, Frequency of Repairs, and Condition of Your Furnace
How often do you need furnace repairs? How old is your furnace? How well does it work? While these might clue you in on a repair need, they can also tell you if it's time for a furnace replacement. Let our team perform a thorough examination so we can discuss your options with you.
Contact Complete Air & Heat, Inc. for comprehensive furnace repairs. Making families happy on the Space Coast since 1975.