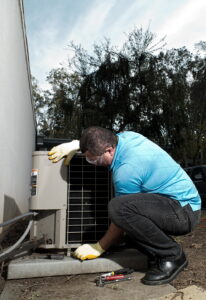 We pay for a lot of things in our lives. Sometimes, it can be hard to keep up with the sheer amount of payments we need to make per month for things such as mortgages, utilities, subscriptions, services, and even things like student loans. We pay so much and get so little sometimes that it can feel unfair.
Well, we understand that mentality and we're happy to tell you that maintenance is not one of those things that will leave you feeling like the return on investment is low. In particular, we're talking about AC maintenance in Rockledge, FL. In fact, the sheer amount of benefits you get from AC maintenance would be hard to fit in one blog post, so we'd like to cover the most important ones.
But remember, we're not talking about shows you can watch or an appliance you might use sometimes, we're talking about one of the most important systems in your home that runs nearly year long in our area. Here's what you can expect from AC maintenance.
Peace of Mind
First things first, what feels better than peace of mind? For a system that you rely on so much, it just feels so much better to know that a licensed professional has tuned it up and maintained it. This is a huge benefit and one that we don't talk about as much as we should.
Anxiety and nervousness can creep up on us when we're least expecting it. That old air conditioner that hasn't been looked at by a professional in years can start to weigh heavily on your mind to the point where you're losing sleep and constantly spending time every day checking up on it. This is just not worth it and you're wasting the most valuable resource of your life–your time.
AC maintenance will ensure that your system is working to the best of its ability for the whole season. And you don't have to think about it. That's part of why this service is as valuable as we say it is.
Efficiency and Utility Bill Management
Managing your utility bills is a hard topic. Sure, you don't want to overanalyze every utility bill that comes your way, especially if you have the income to pay them. But you also don't want to get lazy and allow your energy expenses to skyrocket and cause problems for your budget, especially if you're saving for a major purchase.
Maintenance is a way to get a handle on this. Through yearly maintenance, you can make sure to keep your electricity bills in check by making sure that your air conditioner only consumes the least amount of energy possible as it runs. This is one of the major benefits of AC maintenance and we stand by our ability to keep efficiency levels high.
Better Performance and Lower System Failure Risk
Overall, it's just easier to enjoy air conditioning with an AC that's been maintained. There's less of a risk that a problem will arise, and your system will perform better. You'll feel more comfortable on those hot and muggy days, and you'll also likely notice better temperature control between your thermostat and the system itself. Maintenance allows your AC to be the best it can be, and that's worth the cost in our opinion.
Making families happy on the Space Coast since 1975. For peace of mind and quality work, contact Complete Air & Heat, Inc.