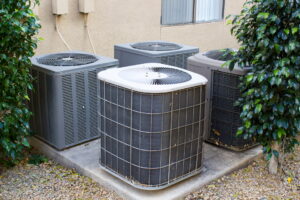 Homeowners in our area already know that we're HVAC professionals who usually deal with central air conditioners and heat pumps. While that's true, we're not going to ignore that many local homeowners still use these systems. They're convenient for apartments, cooling certain areas of a home, and for people on a tight budget. We can't knock a solution that works!
However, the space people use tends to grow when they make big life changes. Whether you're having a baby, getting married, or jumping into a new job, you might be considering a whole-home system that can keep your entire house comfortable. Ultimately, this is a great decision and we can help you with Indialantic air conditioning repair every step of the way.
If you're unsure about a whole-home system vs. a window unit, then let us take a moment to discuss the differences in repairs, installation, and budgeting.
It Depends…
The question of whether to replace your window unit air conditioner depends on a few factors. We'll be honest: it's never a bad idea to upgrade to a whole-home system. We only recommend keeping your window unit if you either can't afford a central air conditioning system or you've got niche comfort needs that don't require much energy-efficient cooling.
…On Your Future Plans
You might have a small space now that fits your needs perfectly, but down the line you might move into a house or upgrade your space. If you do that, then the power of a window unit will start to wane. These systems aren't the most powerful units, and for the amount of energy they consume, they don't compare to the power of a central air conditioner.
If you see yourself upgrading your space, or if you see yourself willing to spend more money on air conditioning in the future, we urge you to invest in a central AC system.
Also, keep in mind that our team can provide targeted AC repairs for central air conditioners since they're built to last. It's not worth paying for repairs on window AC units.
…On Your Energy Efficiency Needs
We've all seen those houses. Sometimes we've even lived in those houses. We're talking about houses where every single window is blocked up with a window unit guzzling energy from all the outlets. Sure, this might work at keeping the home cool, but it is energy efficient? Absolutely not.
Central air conditioners and heat pumps are designed to cool your entire home with one system. They're more streamlinde and designed to use less energy than window units. If you're invested in the energy efficiency of your home, then we urge you to upgrade.
…On Your Comfort Preferences
Do you enjoy seeing your windows blocked by air conditioners? Are you okay with having only certain rooms in your home cool enough to live in during the summer? These are serious questions to consider. If you have the budget for a central air conditioner, why not make your life feel better in the long term with a system that's designed to keep you cool with minimal energy consumption?
Contact Complete Air & Heat, Inc. to invest in a new air conditioner today! Making families happy on the Space Coast since 1975.