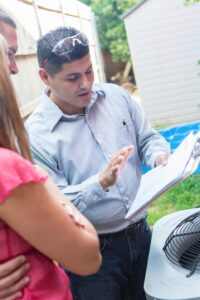 While everyone else might be happy that the heatwaves of summer are finally coming to a close, you're not. Your system is simply struggling. We understand that you might be anxious as you search for an affordable solution, but now is also a great time to invest in professional AC repairs.
The first step toward getting your home comfortable and your energy bills in check is to call our team. We have the tools and experience necessary to fix your air conditioner. But if you keep reading, we've also got three special hints to ensure that you save as much money as possible for this kind of work. AC repair is expensive, so it's important that you save all the money you can!
Don't forget, regardless of what needs to get done, our team can absolutely help you with air conditioning repair in Rockledge, FL!
Tip #1: Choosing the Right Team
One of the best parts about investing in professional AC services is that the work always gets done the right way. It's fast, it's reliable, and you don't really have to worry about any other fees or additional repair costs that might crop up down the line. If we notice something wrong, we'll take care of it. Simple, right?
Our team provides an extra level of support as well, with 24/7 emergency services and knowledgeable technicians who can give you the information you might need. This is an important step in saving money, because a knowledgeable and experienced technician will be able to give you an honest opinion about the state of your AC and where to go from here.
With amateur service, you might be on your own. And no amount of online searches or DIY tutorials will give you the information that a trained professional can.
Tip #2: Take Advantage of Promotions
HVAC teams also tend to have a wide variety of promotions occurring while you're looking at paying for repairs. It's vital that you talk to your technician and ask about any additional ways to save.
For instance, many maintenance programs allow for discounts on repair costs and the price of a new installation. If joining our maintenance club means you get to save on your next repair, then it might be worth it!
Check out our promotions page and talk to one of our technicians. They'll know all about the different promotions and they'll be able to fill you in on what you need to know!
Tip #3: Take Care of Your System
This might not sound like much of a secret, but it's incredibly important in the HVAC industry. Air conditioners that are well-maintained and taken care of by their owners last a lot longer and are cheaper to repair.
Not only is it important to invest in yearly routine maintenance, but you also need to change the system's air filter and call for repairs when something goes wrong. All of these simple actions will allow your system to last longer, incur fewer repairs, and ultimately cost you less down the line.
Call Complete Air & Heat, Inc. for help with your AC system. Making families happy on the Space Coast since 1975.