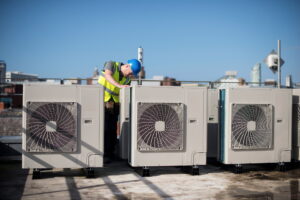 As a business owner, life is just easier with a commercial AC unit you can trust. We're talking about trust in multiple forms–trusting that it won't break down, trusting that it's running efficiently, and trusting that no matter what your customers, employees, or clients demand, it will reach the desired temperature setting. That's real comfort, and a great HVAC system should be able to provide it for you.
So, when should you invest in a technician to repair your system, and when should you call it quits and replace it? This is an important topic to cover, and we're going to go over all the details today. After reading this blog, we want customers to have a general idea of when commercial AC in Rockledge, FL is on its way out and when you might want to invest in a newer, more efficient model to take its place.
Signs of a Broken System
Commercial air conditioners can run into several problems. Not all of these problems require a replacement system though. Here are just a few signs that might point toward scheduling commercial AC repairs.
The system makes a strange noise. Noises like squealing, rattling, grinding, or clanging are simple ways to tell that your system has a problem inside of it. The good news is that these problems are easily targeted and fixed by a professional providing repair. If problems are extensive, then we can approach those problems as they come up.
The unit doesn't cool your space down enough. If an AC isn't cooling the space like it used to, then there might be a problem that needs to be fixed. This can range anywhere from a clogged air filter to a huge system flaw that requires replacement. Only a professional diagnosis will do the trick.
The unit is not responsive. This might be due to an electrical issue between the thermostat system and the unit itself. Electrical systems are simple repairs and easy to locate for a professional, so it's better news than you might think.
When to Choose Replacement
How do you know when your system simply isn't just broken, but it's on its way out? Here are some ways to tell.
It's too old. Commercial air conditioning units don't last forever. If your system has just passed its 15th birthday, then it might be time to consider getting it replaced. A replacement could run more efficiently and reduce monthly bills.
It's sized incorrectly. Commercial AC units need to be sized correctly for your building. If your unit just can't provide enough air conditioning where you need it, then you should call our team to invest in one that can!
The system is shutting down. System breakdowns are devastating for business and sometimes they can be the result of a failed compressor. The compressor is the most expensive and important part of the commercial AC unit, so this might mean you need to replace the system as a whole.
For fast commercial AC repairs or replacements, contact Complete Air & Heat, Inc. Making families happy on the Space Coast since 1975.