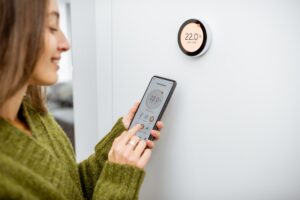 See what we did there? While a new thermostat is indeed a smart purchase to make, a smart thermostat, or Wi-Fi thermostat is perhaps an even smarter investment. These systems are powerful, state-of-the-art, and can do some seriously cool things for your home comfort and your budget. No, we're not exaggerating, take a look below to see where your home can be improved by investing in a smart thermostat installation in Melbourne, FL.
The truth is that an HVAC system works together with many different components. Your furnace, your air conditioner, your air vents, and your thermostat all need to cooperate together in order for your home to be comfortable and protected from the elements. If your thermostat is old and outdated, like many are, then your newer HVAC system might not be performing to the best of its ability. In fact, you could be spending more money on lower efficiency and poor performance, when a smart thermostat could fix that!
The Advantages of a Smart Thermostat
When you hear the term "smart thermostat," you're probably thinking of some kind of voice-activated appliance that will be able to tell you the weather and local movie showtimes, while also controlling the HVAC system. While you probably could set up a system like that, that's not the primary reason why we're writing about smart thermostats, and it's not really their main purpose. Smart thermostats handle your HVAC system in a smarter way, while also providing convenience to your home.
Smart thermostats first learn about your comfort preferences. They study where you normally set the thermostat, and figure out the difference between your daytime temperatures and nighttime temperatures. They also can be programmed to learn about when you get home from work, when you wake up, and more. These are important figures because they help the system know when to work harder.
Eventually, the goal is to have an HVAC system that runs only when you need it to, saving energy and reducing wasted fuel or electricity by having an air conditioner or heater that works on your schedule.
Wi-Fi Control
Wi-Fi thermostats are some of the coolest smart thermostat models on the planet. These units aren't controlled via normal analog or digital thermostat inputs, but rather from a smartphone. This means that yes, your HVAC system could be run from your smartphone when you're anywhere in the world. As long as the system is hooked up to Wi-Fi, and you've got an internet connection, you'll be able to change the temperature at home.
So, want things to be nice and comfy when you get home from work? Why not turn on the AC while you're on the train back home or waiting in traffic?
Better Performance and Higher Efficiency
Smart thermostats are also great systems that help reduce small amounts of HVAC waste and inefficiency. Older thermostats, while they still might work, don't efficiently utilize your HVAC system's quick responses and high efficiency. A smart thermostat is a great way to cut any inefficiency out of your home and keep your budget in tact.
Contact Complete Air & Heat, Inc. to upgrade your thermostat system! Making families happy on the Space Coast since 1975.