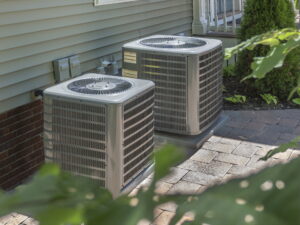 As an HVAC provider, we need to be as clear as possible about the types of systems we install. Every home is different, every customer has different needs, and it's impossible to have a "one-size-fits-all" type of solution in this industry.
That's why we'd like to talk about some of the major differences between central air conditioners, heat pumps, and ductless mini splits. Each represents a different approach to air conditioning, with its own strengths and weaknesses. If you're in the market for an air conditioning installation in Rockledge, FL, this blog post will hopefully inform you of the specific products you might see.
Remember, if you don't feel good about the prospective AC that we recommend, then tell us! Your comfort preferences and energy efficiency are a high priority, and no system is going to be perfect. Our job is to match you with the AC that makes you happy and keeps you comfortable.
The Central Air Conditioner
You honestly can't go wrong with a central air conditioner. If you've lived with a window air conditioning unit or no air conditioning at all, then this is the logical next step. These systems are the "gold standard" in cooling technology because they have the ability to cool your entire home at an affordable rate. And, to top things off, they're easily some of the cheapest models on the market.
Central air conditioners come in two forms: standard systems and inverter AC units. Standard air conditioners are the ones that you think of when you imagine a central air conditioner. It has two modes, on and off, and it just cools your home until your thermostat reads the correct temperature.
Inverter ACs are still central air conditioners with a twist. They have multiple functioning levels instead of just on and off. This means that it can cool your home when you turn it on, but then keep running while saving energy to keep your home cool over a long period of time.
If you're ready to take your first real dive into air conditioning technology, then a central AC is a great place to start!
A Centralized Heat Pump
Heat pumps are relatively new in the air conditioning industry, but not in the ways you think.
You see, a central air conditioner is essentially a type of heat pump. Heat pumps, the way we understand them, are systems that just move heat from one place to another using electricity. A central AC is a one-way heat pump that just moves heat out of your home.
When we say "heat pump" in this context, we're talking about systems that can move in both directions. A heat pump can both cool your home like a central air conditioner and heat it like an electric furnace, all using electricity and moving heat instead of creating it. These systems are eco-friendly and becoming wildly popular in the United States.
A Ductless Mini Split System
If you're interested in heat pump technology, but your home doesn't have the ductwork to support one, what do you do?
Introducing the ductless mini split. It's a heat pump that can heat and cool your home, but it works through small air handlers that are mounted on your walls, ceilings, or floors. They're hyper-efficient, work independently, and they're a great alternative type of system.
Ready to choose an air conditioner? Contact Complete Air & Heat, Inc. to get started. Making families happy on the Space Coast since 1975.