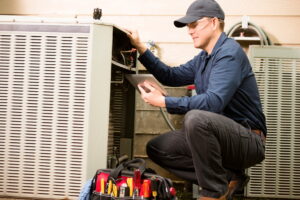 Homeowners get very concerned about smells when they're using a gas furnace. This is for a very good reason, since gas furnaces can sometimes leak flammable gas that can be a health and safety concern for you and your family.
While we urge homeowners to keep that level of vigilance every winter, it shouldn't start and stop with just gas furnaces. Other HVAC systems can produce odd odors that are not good news, and that includes an air conditioner or a heat pump.
Yes, if your AC system is causing a foul odor to waft through your vents, then you absolutely need to call us for air conditioning repair in Cocoa Beach, FL. This can be anything from an overheating system that's causing electrical damage to your home, to mold spores entering into your ductwork and becoming a health issue for your family.
Keep reading as we identify these smells and inform you as to what they are.
A Burning Smell
Let's start with one of the worst odors you could detect coming from your AC. Even if on the hottest day, you're getting cool air coming from your air vents while you detect this smell, you should still turn the system off and call for help.
If your air conditioner is giving off a burning smell, similar to the scent of burnt plastic, rubber, or frayed wires, then you're likely dealing with an electrical problem or an issue that's causing a component to melt. This can happen if there's not enough lubrication, or if the system is putting too much strain on specific components and they start wearing out. When things get too hot and when a component starts melting, you'll likely experience a breakdown soon. The longer this problem goes on, the more expensive it will be to fix!
A "Dirty Sock Smell"
This is fairly common when it comes to AC problems, but it's a problem that needs to be fixed nonetheless. Your air conditioner has to remove a fair amount of moisture from the air while it runs, which is why it has a condensate pan and drain. This condensate pan collects the moisture that condenses from the cooling process and funnels it down the condensate drain where it can be deposited on your property far away from your home.
If you're smelling a "dirty sock" smell coming from the air vents of your home, then you're likely either dealing with a clog in the condensate drain that's causing mold to grow, or you're dealing with mold growing in your air ducts. Either way, mold can be a big problem for people with sensitive respiratory systems, and long-term exposure to mold can have negative health effects even in the healthiest people.
Get These Problems Fixed
Basically, what we're trying to tell you is that no AC is supposed to smell like this. If your system gives off a foul odor of some kind, then the air conditioner is probably in need of professional help. Call our team so we can get these problems addressed ASAP.
Call Complete Air & Heat, Inc. for comprehensive AC repairs. Making families happy on the Space coast since 1975.