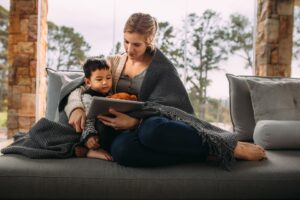 Your thermostat serves as the "brain" of your HVAC system. It communicates to what would otherwise be a mundane piece of cooling equipment, and turns your AC system into a monitoring device. Once the temperature reaches above the line where it's comfortable, your AC switches on at the direction of your thermostat and starts cooling things off.
That's why we think it's so important to talk about thermostats, especially thermostats that are old or outdated. Newer temperature monitoring systems are able to be programmed to curb energy loss and cool your home in a more efficient manner.
For homeowners out there looking to improve their home cooling this spring, we urge you to keep reading! We'll go into all the juicy details about how a smart thermostat in Melbourne, FL will improve your home comfort and reduce your monthly energy bill. Just make sure you call us if you're ready for an upgrade!
Two Noticeable Improvements
When we talk about smart thermostats, we're specifically talking about two major upgrades you can invest in. Sure, a pretty digital thermostat is always going to look and feel better than an old analog one, but we're not really interested in the aesthetic look of a thermostat. Many homeowners in our area would love to use their old analog thermostat if it operated the same as a digital one, but the truth is that it doesn't for these two major reasons!
Wi-Fi Enabled Thermostats
Wouldn't it be cool if you could control your thermostat from your bed? No, we're not talking about a physical thermostat that you can remove from the wall and use in your bed, that makes it much easier for it to be lost or broken. (Although, if that's what you want, we can probably help you achieve that goal)
More conveniently would be a thermostat that can be controlled from your bed, without having to physically move the system, right? Well, Wi-Fi enabled thermostats are just that! You can control the thermostat with a touch of your smartphone. This can be done from your bed, your office at work, or even from a beach on vacation, granted there's a Wi-Fi or service signal.
Programmable Thermostats
Older thermostats are just blank slates. You tell them how warm your home should be, and they just turn on the machines until the temperature gradient is reached. Newer thermostats just aren't that simple.
Smart thermostats can be programmed these days, which means they can actively work to improve the efficiency and comfort of your home. They can lower the power on your heating or cooling system while you're asleep, since we pay less attention to the temperature in the middle of the night. They can also learn your heating and cooling habits, to provide measurable improvements day after day.
Problems From an Old Thermostats
Upgrading your thermostat isn't just about getting new and improved perks, it's also about avoiding a malfunctioning old thermostat. Are you dealing with a problematic old thermostat? Then call our team to have your system replaced with a new and improved smart thermostat!
Call Complete Air & Heat, Inc. to upgrade your thermostat today! Making families happy on the Space Coast since 1975.